Events in Pringle Bay

Tru-Cape Kogelberg Mountain Challenge

Marathons & Half Marathons Outdoor Events Sporting Events
Please Note
This event has already taken place. All details published in good faith, as supplied by the organisers. Please check our current and upcoming events list for events to attend.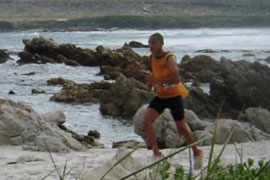 The Tru-Cape Kogelberg Mountain Challenge in Pringle Bay offers runners the opportunity to participate in a race with abundant scenic beauty and mountain views with the route taking you into the Kogelberg Nature Reserve.
The Kogelberg Mountain Challenge consists of a fully-fledged half marathon, a 10km race and a themed fancy dress 5km fun run.
All of these races contain challenging climbs, a river crossing and the beach run that has hallmarked the Kogelberg Mountain Challenge as a must-do event. Walkers are also welcome to join in the fun of the race.
Contact: Sandy on +27 (0)79 413-6610 for more information.