Western Cape Events
Out in Africa Gay & Lesbian Film Festival (V&A Waterfront)
When: Dates to be confirmed
We regret, the dates for this event have not yet been confirmed with us. Our apologies for any inconvenience. Event organiser please contact us with the date for this event.
Where: V&A Waterfront
Categories: Film Festival
Stay overnight: See accommodation in V&A Waterfront, in Western Cape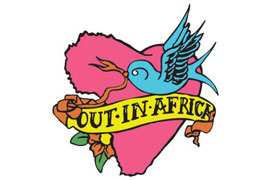 In celebration of its 20th year, the Out in Africa Gay & Lesbian Film Festival returns and is bringing you an exciting festival of screen films that boast outstanding talent! Hosted by the National Film & Video Foundation, the festival will take place in both Cape Town and Johannesburg from 18 to 27 October 2013. Confirmed to screen is a selection of films that will inspire, surprise you and warm your heart, a brilliant and entertaining line up that you can look forward to.


Films include:
• Free Fall (Freier Fall) - directed by Stephan Lacant
• The Happy Sad - directed by Rodney Evans
• Hot Guys with Guns - directed by Doug Spearman
• In their Room: London - directed by Travis Matthews
• Lose Your Head - directed by Patrick Schuckmann and Stefen Westerwelle
• Louis(e) de Ville, portrait of a bad girl

Venue: Nu Metro V&A Waterfront, Atlantic Seaboard, Cape Town
Tickets: R50.00 (available at the door)
Contact: +27 (0)21 461-4027 for more information

Please Note: Dates for this event to be confirmed.
Stay a Day or Two?
Find Accommodation in V&A Waterfront
QuantumSpa™ delivers a superior service, including massage, body and skincare therapies, spa and wellness packages and beauty treatments. Our world ...
Turn your dreams into a reality. For those who are looking for a unique and exceptional way to celebrate their special day, we cater for both the ...
Related Pages
V&A Waterfront Tourism
• Cape Town Central Accommodation
• Cape Town Accommodation
• Western Cape Accommodation
• V&A Waterfront Hotels