Western Cape Events
Out in Africa Gay & Lesbian Film Festival (V&A Waterfront)
When: Friday, 18 October 2013 to Sunday, 27 October 2013
Where: V&A Waterfront
Categories: Film Festival
Stay overnight: See accommodation in V&A Waterfront, in the Western Cape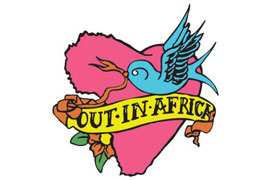 Please Note: This event has already taken place. Please check our Current and Upcoming Events List for current events.

In celebration of its 20th year, the Out in Africa Gay & Lesbian Film Festival returns and is bringing you an exciting festival of screen films that boast outstanding talent! Hosted by the National Film & Video Foundation, the festival will take place in both Cape Town and Johannesburg from 18 to 27 October 2013. Confirmed to screen is a selection of films that will inspire, surprise you and warm your heart, a brilliant and entertaining line up that you can look forward to.


Films include:
• Free Fall (Freier Fall) - directed by Stephan Lacant
• The Happy Sad - directed by Rodney Evans
• Hot Guys with Guns - directed by Doug Spearman
• In their Room: London - directed by Travis Matthews
• Lose Your Head - directed by Patrick Schuckmann and Stefen Westerwelle
• Louis(e) de Ville, portrait of a bad girl
Please note that event and festival details can change. All event information is published in good faith as supplied by the organisers. Please check with the organisers that the event is happening before making your travel arrangements.
Stay a Day or Two?
Find Accommodation in V&A Waterfront
Situated on the scenic Waterfront Canals, 103 Bannockburn is a spacious two bedroom apartment that makes the most of its position as a corner ...
The Two Oceans Aquarium offers a spectacular venue for your conference or very special day, your wedding. Called the Two Oceans Aquarium because the ...
Related Pages
V&A Waterfront Tourism
• Cape Town Central Accommodation
• Cape Town Accommodation
• Western Cape Accommodation
• V&A Waterfront Hotels
• V&A Waterfront Accommodation