Western Cape Events
Out in Africa Gay & Lesbian Film Festival (V&A Waterfront)
When: Dates to be confirmed (Saturday, 19 October 2013 to Monday, 28 October 2013)
Where: V&A Waterfront
Categories: Film Festival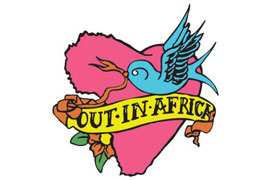 Out in Africa was launched in 1994 to celebrate the inclusion, in the South Africa Constitution, of the clause prohibiting discrimination on the grounds of sexual orientation. It's now Africa's biggest Gay and Lesbian film festival.

The triple Oscar nominee Albert Nobbs will première at this film festival. Glenn Close received her sixth Oscar nomination for her role as a woman passing as a man in order to work and survive in 19th Century Ireland. Janet McTeer, nominated as Best Supporting Actress, also has a cross-dressing role, and the film is up for Best Makeup. Rising star Mia Wasikowska (Alice in Wonderland, Jane Eyre) is the love interest. The director Rodrigo Garcia, son of the Nobel Prize winning novelist Gabriel Garcia Marquez, is an Emmy-nominee.

The Festival will host three international guests, Lead actress and producer Dreya Weber, Swedish actor and producer Josefine Tengblad and Belgian director Bavo Defurne. Soweto-born Fanney Tsimong is also a guest of the festival as the writer and director of The Secret (Imfhilo).

The guests will present the following interesting films 'A Marine Story', which has won 16 major awards, 'The Gymnast', 'Kyss Mig' (Kiss Me), 'North Sea Texas' which was named Best Feature Début at the Montreal World Film Festival and won the Fipresci International Press Award and 'The Secret' which will play with two South African short films: 'Anders' by Werner Coetzee and Mthokozisi Lembethe's 'Paving Forward'.

Other festival highlights include:

• The award-winning, wickedly funny British film 9 Dead Gay Guys - the queer flick Guy Ritchie should have made…
• Christopher and His Kind, a lush drama and the real story of Christopher Isherwood's Berlin, fabric of the cult classic Cabaret
• The award-winning Chilean My Last Round, an exquisite South American sleeper in the fashion of the runaway hit Undertow
• German must see Romeos, a trendy, unconventional and very contemporary take on the issues facing queer teens.

Venue: Nu Metro V&A Waterfront
Tickets: R48 - but there are lots of concessions available - Clicks, Metropolitan, NuM OAPs and half-price Wednesdays for Fanatics.
Stay a Day or Two?
Find Accommodation in V&A Waterfront
The Victoria and Alfred Hotel is internationally renowned for the highest standards of service. The warm personality of the Hotel, the attention to ...
Luxurious self catering apartments on the water's edge at the new Waterfront Marina development offer the discerning tourist privacy and easy access ...
Related Pages
V&A Waterfront Tourism
• Cape Town Central Accommodation
• Cape Town Accommodation
• Western Cape Accommodation
• V&A Waterfront Hotels
• V&A Waterfront Accommodation