Cape Town & Western Cape Tourist Attractions
Paarl Vintners, Cape Winelands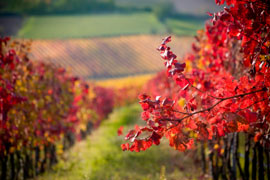 To view the individual wine estates on the Paarl Vintners Wine Route, see Paarl Wine Estates.

The town of Paarl, named so because of the large granite outcrop - the most prominent of which looks like a large dome or pearl - lies only 50 km outside of Cape Town and within easy reach of the mother city.

Paarl Vintners has earned its place as the world's first 'red route' because of its focus on wines such as Roodeberg, Cabernet Sauvignon, port and Shiraz. The Paarl district includes the wards of Franschhoek and Wellington as well as the newer wards of Simonsberg-Paarl and Voor-Paardeberg. A large variety of grapes is grown in the district including Cabernet Sauvignon, Pinotage, Shiraz, Chardonnay and Chenin Blanc. Because the summers are warm and long and there is good rainfall in the area, irrigation is only necessary in exceptional circumstances. Most of the estates, 33 at last count, offer wine tasting and cellar tours and some have excellent restaurants.

For additional information about Paarl, attractions, things to do and events and festivals see Paarl Information & Attractions.
Paarl Vintners
Accommodation nearby
For accommodation in Paarl and nearby see:
• Franschhoek • Groot Drakenstein • Paarl • Pniel • Simondium • Stellenbosch
• Tulbagh • Wellington

Or to see all accommodation in this region, visit Cape Winelands.
Paarl Vintners Wine Route
Wine Estates of the Paarl Wine Route

This route combines world-class wines with breath-taking scenery to create an idyllic destination for just about anybody. The sweltering, dry summers and chilly winters give Paarl the perfect climate for an array of wine varieties. Whether red white or rosé, sparkling or dessert, Paarl's ... more information