Western Cape Destinations
Kenilworth, Southern Suburbs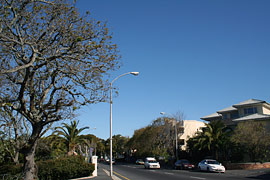 Once you've booked your accommodation in Kenilworth, explore our pages for info on attractions and what to do in Kenilworth.

Kenilworth lies flanked by the Constantia Winelands and popular Kirstenbosch Botanical Gardens, between the suburbs of Claremont and Wynberg. A leafy suburb, upper Kenilworth is a well established part of Cape Town and homes here are large and expensive with extensive gardens.

Across the railway line and south of Main Road, away from the mountain, Kenilworth still offers good value for money and remains affordable to middle class Capetonians. You're close to everything from here - the city is only 20 minutes' drive, Claremont and her extensive shopping centres are just up the road and you're close to the Constantia Wine Route and Maynardville Theatre with its annual renditions of Shakespeare, in the old village of Wynberg.


Get the Scoop
Kenilworth Reviews
Related Links
Featured Attractions in (or near) Kenilworth

Cavendish Square Shopping Centre is an award-winning shopping mall situated in the heart of Cape Town's Southern Suburbs in the upmarket suburb of Claremont. Cavendish Square encompasses over two hundred of the most elite stores in the country. Visitors to Cavendish Square can look forward to ... more information

Lying at the top of Wynberg Park with incredible views out over the vineyards of Constantia, Chart Farm is one of those little escapes about which only the locals know. It's one of the only places where you can pick your own roses in Cape Town and the bonus is that you can enjoy tea, coffee and an array of cakes on ... more information

Rich in heritage & beauty, the Constantia Wine Route comprises of Groot Constantia, Buitenverwachting and Klein Constantia. Constantia was one of the first wine-producing areas of the Western Cape. Groot Constantia is one of the first and finest examples of Cape Dutch architecture. The homestead ... more information

This particular historical walk in Wynberg you will find on a map that you can get from the library in Wynberg, or from the Old Wynberg Village Society who were instrumental in producing it. It is one of a series of maps designed to promote walking Wynberg, whilst drinking in the historical buildings ... more information

Kenilworth Race Course
The oldest racecourse in the country, Kenilworth is steeped in tradition and history. With its enviable geographic location and beauty, it has long been a favourite racing venue among both South African and overseas visitors. Kenilworth Racecourse is situated only ten minutes from Cape Town city centre.

Wynberg Park
Wander along pretty paths, enjoy the local duck population, or take your family for a picnic in quiet, picturesque surroundings. Adjacent to Chart's Farm where visitors can hand pick fresh apples, grapes and nectarines, or wander around the beautiful rose garden and pick your choice of magnificent roses.
Related Links
Things To Do in Kenilworth

Where: Kenilworth
How much (per person): Price on request
Soma Studio offers relaxing and effective salon therapies in the tranquil environment at Highlands Country House. The word 'soma' (sew-ma) i ... more information

Where: Wynberg
How much (per person): R1 to R100
The Chart Farm in Wynberg is a giant rose garden where you can go to pick dozens of roses for a really good price. Chart Farm is situated ... more information
Related Links
Restaurants in Kenilworth

Where: Kenilworth
This outstanding Caribbean Restaurant is the ultimate place to spend the evening with your friends over a few delicious cocktails and phenomenal food. While here you can order some sumptuous food, ... more information
Related Links
Events and/or Festivals in Kenilworth

November

January
Related Links
On Holiday in Kenilworth
• Kenilworth Accommodation
• Kenilworth Hotels
• Southern Suburbs Accommodation
• Southern Suburbs Hotels
• Cape Town Accommodation
• Western Cape Accommodation