Gauteng Tourist Attractions
Museum of Military History, Johannesburg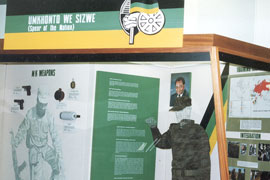 If you are even vaguely into weapons, military aircraft, medals, uniforms and other war memorabilia, then the South African Museum of Military History set on Erlswold Way in Saxonwald, Johannesburg - literally next door to the Johannesburg Zoo - is obligatory.

During the First World War many of the countries involved in the fighting spent time collecting and preserving records of the role of their soldiers. For instance Britain established the Imperial War Museum, but South Africa failed to start any form of a museum and a lot of the material relating to the period was lost. It was shortly after South Africa entered the Second World War that efforts began to preserve documents and materials, and an Historical Research Committee was set up. Interestingly the state appointed seven war artists who were present at the front. The collection of over 800 art pieces that followed serves as a form of reference to South Africa's role in the war.

The museum opened only in 1947 and was called the South African National War Museum. It was changed in 1975 to the South African National Museum of Military History. It holds a collection of over 44 000 items from both world wars and the civil war against Apartheid, divided into 37 categories that include photographs, the art collection and some of the rarest aircraft in the world. The Museum of Military History also has a library with a unique collection of journals, archive material and books, and some 80 000 people visit annually.

Address: Erlswold Way in Saxonwald, Johannesburg.
Telephone: +27 (011) 646-5513.
Museum of Military History
Accommodation nearby
For accommodation nearby see:
• Blackheath • Emmarentia • Linden • Melville • Northcliff • Parkhurst
• Parktown • Parkview • Parkwood • Victory Park

Or see all options please visit Joburg Accommodation or Joburg Hotels.
Museum of Military History
Attractions / Activities nearby

Nowhere can the story of South Africa's turbulent past and its extraordinary transition to democracy be told as it is at Constitution Hill. This national heritage site has witnessed a century of South Africa's history. From rebellious British soldiers who fought with the Boers at the turn of the century, to the ... more information

Based in Rosettenville Johannesburg, opposite the Rand Stadium, the James Hall Museum of Transport is an incredible collection of over 400 years' worth of various modes of land transport that range from steam driven vehicles, trains, trams and trolley buses, to animal drawn carriages, early bicycles and cars of ... more information

Situated on Jan Smuts Avenue in Parkview, the Johannesburg Zoo is one of the city's most popular haunts. The huge 54 hectare green lung is the place where the two tributaries of the Braamfontein Spruit meet, set in almost park-like surrounds in the heart of the northern suburbs. Johannesburg's zoo is home to 2070 ... more information

destinations / attractions in gauteng