Gauteng Tourist Attractions
Johannesburg Botanic Garden, Johannesburg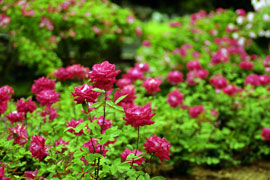 Set on the western shores of the Emmarentia Dam, Johannesburg Botanic Garden is one of the city's parks - a green space in the middle of Jo'burgs northern suburbs about 6 kilometres from the city centre - with over 30 000 trees, a large rose garden, the site of over 4 500 varieties, and a space through which Jo'burgers can stroll and meet to relax for picnics and play with children.

Interestingly, the Johannesburg Botanic Garden is also one of the youngest gardens in the country at only just over 30 years of age. It was voted the best passive recreation space in the city by its residents in 2004 that make use of the greenery to escape the drudgery of city living, and is involved in a seed exchange programme with another 300 odd gardens throughout the world.

The Johannesburg Botanic Garden has some of the finest plant collections in the world that include indigenous trees and succulents, and its herb garden contains a surprising collection of traditional African medicinal herbs, culinary, medicinal and cosmetic herbs.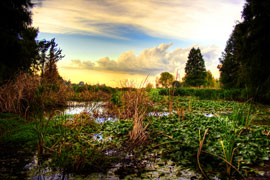 The gardens are used by many
Gauteng weddings
for capturing those special moments and has now opened its own wedding venue, the chapel Garden - specially revamped to provide a sumptuous setting for wedding photographs. Summer Sunset Concerts have proven to bring the crowds to the Johannesburg Botanic Gardens and have been touted as a 'weekly humdinger of a party', featuring a variety of local and international artists in similar style to the summer concerts held at
Kirstenbosch in Cape Town
.
Contact Details:
Johannesburg Botanical Garden
Address:
Olifants Road, Emmarentia, Johannesburg, 2195
Telephone:
+27 (0)11 782 7064
Johannesburg Botanic Garden
Accommodation nearby
For accommodation nearby see:
• Blackheath Accommodation • Emmarentia Accommodation • Linden Accommodation
• Melville Accommodation • Northcliff Accommodation • Parkhurst Accommodation
• Parktown Accommodation • Parkview Accommodation • Parkwood Accommodation
• Victory Park Accommodation

Or to see all accommodation in this region, visit Johannesburg Accommodation.
Related Links
Attractions / Activities nearby

Reputed to be the best dog walk in Johannesburg, Emmarentia Dam lies next to the Botanic Garden in Emmarentia, north Johannesburg. Tranquil lawns in which families can meet and play, walkways peppered with wooden benches placed strategically to afford moments of stillness and reflection ... more information

Johannesburg Planetarium
Situated in the grounds of the University of the Witwatersrand (entrance in Yale Road, alongside the M1). Seating for over 400 persons. Educational and entertaining programmes on different aspects of astronomy are held every Friday, Saturday and Sunday. Phone: + 27 (0)11 717-1392.

Situated on Jan Smuts Avenue in Parkview, the Johannesburg Zoo is one of the city's most popular haunts. The huge 54 hectare green lung is the place where the two tributaries of the Braamfontein Spruit meet, set in almost park-like surrounds in the heart of the northern suburbs. Johannesburg's zoo is home to 2070 ... more information

destinations / attractions in gauteng