Restaurants in Emmarentia
Restaurants: Casual Dining
Showing 1 of 1 restaurant in this category
Where? Emmarentia
Cape Town's area of District Six is one of deep history and culture, where the realities of the old South Africa and the Apartheid regime are offset by the modern vibrancy of the suburb and the warm hearts and ...
Restaurants: Cafés & Coffee Shops
Showing 1 of 1 restaurant in this category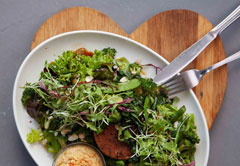 Where? Emmarentia
Fresh Earth calls itself a food store. Which it is. It is far more than a restaurant. It has a bakery out back where it produces some of the breads it serves in its restaurant and sells in its shop, whilst the ...
Filter restaurants
in Emmarentia, Gauteng
©Unauthorised use of the
photos is strictly prohibited.