Gauteng Tourist Attractions
Gautrain, Johannesburg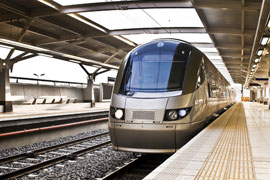 The Gautrain is an 80 kilometre mass rapid transit railway system, which is a long-winded way of saying that Johannesburg constructed a (really) fast train that cuts out all of the traffic to and from the airport, just in time for the Soccer World Cup of 2010. Its presence is estimated to cut 20% of the cars that usually frequent the N1 highway, en route to and from OR Tambo Airport.

Commuters can already use the Sandton, OR Tambo, Marlboro and Rhodesfield lines, whilst phase 2 (the 'almost ready' routes between Sandton and Park Station, and between Midrand and Hatfield in Pretoria) will include Rosebank, Park, and Midrand stations.

Essentially the Gautrain (one website describes it as pronounced 'how-train', which isn't quite correct as without the typical South African glottal gggg it doesn't venture even close to the actual pronunciation), which travels at 160 km an hour, links Johannesburg and Tshwane (Pretoria), sending a total of 24 daily luxury trains between the two cities with the aim of stopping at ten stations in total.

You can expect a smooth, air conditioned ride, and enough space for bags, suitcases and prams. It costs around R20 to travel between Johannesburg and Pretoria and around R100 from the airport to Sandton (not as cheap, and certainly not affordable for the average South African). There is also a card system perfect for frequent passengers that you can use on the bus, the parkade and the train.

The Gautrain bus service runs on six routes from Sandton station and one route from Rhodesfield, but further routes should open up once the Gautrain development is completed.

There has been a fair amount of controversy with regards to the train. Its critics have remarked on its elitism and inaccessibility for local South Africans. There is also concern that disgruntled Metrorail commuters, who face daily overcrowding on hot trains that don't always run according to schedule, will use the train as a scapegoat or that the Gautrain will end up simply being neglected in similar fashion ot the existing network of tarred road that are not properly maintained.

Whatever its criticisms it remains a great way to get to and from the airport, and something every visitor to Johannesburg should experience.

destinations / attractions in gauteng