South Africa Outdoor Activities
Ostrich Ride in South Africa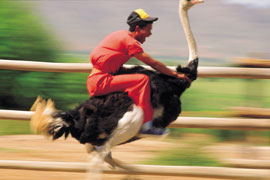 Ostrich Ride in South Africa - How many people can say they've ridden an
ostrich
? If you visit
Oudtshoorn
in the Karoo, South Africa, and if you dare, you could try to sit on an ostrich, ride the ostrich and perhaps even take part in an "Ostrich Derby" (not for the faint hearted)!
Oudtshoorn is famous for its huge ostrich population, which thrive in the semi-desert conditions. Ostriches are the tallest living birds on the planet. The Ostrich is a large, flightless bird - the largest living bird on earth. When fully grown it weighs over 120kg pounds. Ostrich have long necks, small heads, large eyes, long, powerful legs, and two toes on each foot. Ostriches have great vision and because of their strong legs can run at 70 km per hour.
Ostriches are inquisitive birds that will peck anyone or anything. You will certainly feel the peck but it doesn't hurt. But, be cautioned, beware of their claws! They kick forward, not backward, and their claws are sharp enough to inflict wounds. Especially the males who become aggressive as they get older. (The males are black with white plumes while the females are brown).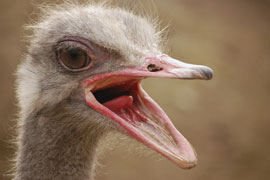 To ride an Ostrich, visit one of the Ostrich Show Farms in
Oudtshoorn, South Africa
. Here you can observe large flocks of Ostriches at different stages of development.
There are petting areas where you can cuddle the chicks or feed an ostrich by hand, watch how feather dusters and boas are made.
Professional multilingual guides take you on a conducted tour where you will learn about the birds surrounded by thousands of ostriches. Visit the Restaurant where you can try an Ostrich Steak or the Ostrich egg (which feeds 20 people), can be tasted together with Ostrich Paté and Biltong. You can also visit the shop on site and purchase exclusive leather handbags and feather boas and a variety of decorated and plain Ostrich eggshells, Ostrich paté's and biltong (traditional dried meat) and other delicatessen are available at these shops.
And then if you feel really brave you can try to sit on an ostrich or you can actually try to ride an ostrich (at your own risk!).
South Africa Outdoor Activities
Featured Ostrich Ride Destinations

Where: Oudtshoorn
How much (per person): On Request

To ride an Ostrich, visit one of the Ostrich Show Farms in Oudtshoorn, South Africa. Here you can observe large flocks of Ostriches at different ... more information

South Africa Car Hire
Hire from international and local companies, offering a wide range of cars, from budget to luxury groups.