South Africa Outdoor Activities
Microlighting in South Africa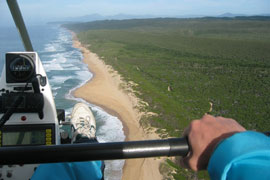 Microlighting South Africa - Microlighting is an extremely adventurous way of discovering South Africa's beauty. Whether you choose to enjoy a birds eye view of the mountainous regions of
South Africa
, or push the limits with some hardcore aerobatics, you'll be more than satisfied with the many opportunities for microlighting in South Africa.
Microlighting has advanced quite a bit since its inception in the 1970's when all a microlight was, was a basic undercarriage and motor attached to a set of hanggliding wings. Nowadays the equipment is a lot more advanced and microlighting has a large global following. South African microlighting has the distinct advantage of being able to offer flights over
South Africa's game reserves
which allows both the pilot and passenger to watch out for various wildlife on the ground below.
Mpumalanga
means 'the place where the sun rises' and it is known for some of the most beautiful sunrises in
South Africa
. Why not make a plan to enjoy the glorious colors and serenity of the Mpumalanga sunrise from high up in a microlight. Whilst South African microlighting can be done at almost anytime of the year, microlights are very much dependant on wind conditions. Strong winds can make microlighting very dangerous to attempt. For this reason,
Gauteng
is a popular place to microlight because of the low wind speeds all year around.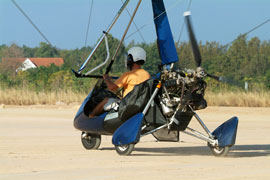 Emoyeni Aviation Park situated at Camperdown in
KwaZulu Natal
, offers the opportunity to go micro-lighting and obtain your microlight pilot's licence.
Easily accessible from the N3 Highway, yet secluded enough to offer peace and tranquillity. If your partner does not share your interest in this sport, Emoyeni will organise shopping expeditions, site seeing tours and other entertaining things to keep them busy whilst you enjoy the highs of microlighting in South Africa.
Aquila Microlight Photo and Film Safaris arranges microlight trips around
Cape Town
, the
Cape West Coast
and further afield. Whichever option your choose your flight is an unforgettable, magical experience. From soaring above the crashing waves or flying low over magnificent landscapes, your South African microlighting experience is bound to be a memorable one. If your memory isn't what it used to be, don't worry because every flight is digitally filmed and you will receive a copy of your trip to take home and enjoy again and again.
There are companies that offer South African microlight experiences followed by champagne lunches. All equipment is of the highest quality and all pilots are qualified instructors. The standard flight is 30 minutes from the airfield. Your microlighting flight over the sea might just reward you with the incredible sight of whales or dolphins swimming near the shore.
No matter where you decide to go micro-lighting in South Africa, rest assured it will be an unforgettable experience.
South Africa Outdoor Activities
Featured Microlighting Destinations

Where: Malmesbury
How much (per person): On Request

A microlight is the ultimate flying experience with its open cockpit leaving it to be considered the motorbike of the sky. Your supplied gear includes ... more information

Where: Ballito
How much (per person): On Request

Flights are generally either 15 or 30 minutes long. You will take in magnificent views of the rolling fields of Natal Green Gold, the stunning coastline ... more information