South Africa Outdoor Activities
Gauteng Hiking Trails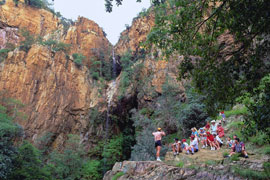 Gauteng Hiking Trails - Get away from the hustle and bustle of the city and enjoy hiking in Gauteng.

Relax and unwind as you admire the wonderful game, mountains, waterfalls and indigenous vegetation. It is a pity however that this region does not offer that many hiking trails but the trails available are fantastic and scenic.

The Gauteng Province has several spectacular botanical gardens, bird sanctuaries and nature reserves and an authentic treasure trove of archaeological and geological sites. A ninety-minute drive north-west of Johannesburg takes you to the beautiful Magaliesberg Mountains. This area offers fantastic hiking trails with views of superb rock formations, sparkling waterfalls, winding streams and masses of exceptional indigenous vegetation. Go on a South African hiking trail and visit The World Heritage Site: The Cradle of Humankind and the Wonder Caves with their extraordinary display of live stalagmites and stalactites.

The Johannesburg Hiking Club organises hikes and fosters a sense of responsibility towards the environment. The club offers youthful, midweek and Sunday hikes, backpacks, base camp weekends, slide shows, club evenings and social events.

If you wish to improve the environment in this province, join this club and go on hikes whilst improving the environment. The Johannesburg Hiking Club utilises as many different hiking trails in South Africa as possible in order to provide an extensive and motivating programme. Johannesburg also offers numerous fantastic trails that have been tailored for disabled and/or handicapped persons.

In the heart of the busy Gauteng, Hennops hiking trail offers hikers to experience one of the few unspoilt nature areas near the Hartbeespoort Dam. This trail consists of two day trails setting out from two base camps namely The Krokodilberg trail and The Zebra trail. At the beginning and end of both trails, the route meanders along the shimmering Hennops River before changing direction into the surrounding magical mountains.

The Krokodilberg trail on the first day is 11,33 km long and the second day Zebra trail is 6,15 km long. There are two base camps called Loerie and Hadeda both of which are on the banks of the Hennops River where there are many rock pools ideal for a refreshing swim. The Loerie camp has a big swimming pool where hikers can refresh themselves and cool down after a good day's hiking. The Hennops Hiking trail offers outstanding scenery of indigenous trees along the glistening river, gorges and plateaus which are home to numerous magnificent birds.

For the day off, there are numerous Sunday hikes at Foothold and Castle Gorge. Most hikes are not on dedicated paths so you will be bundu bashing to follow the leader.

The Windy Brow game farm in Pretoria offers a network of hiking trails especially for the hiking family, beginners and senior hikers. The farm formed part of the bigger farming unit of Elandsfontein where the famous Cullinan diamond was discovered. The hiking trails offer awesome game viewing of more than 14 species of game.

Each hiking trail covers differing habitat zones to ensure that you view all the game offered. You will view an abundance of magnificent bird-life, the Cullinan mine, Hartbebees, Kudu and Gemsbock, Giraffe, Zebra and the typical Transvaal bushveld.

The Gauteng Province may offer just a few hiking trails but the trails available offer gorgeous scenery and awesome opportunities to view differing species of game.
Gauteng Hiking Trails
Featured Hiking Trails in Gauteng
Gauteng Hiking Trails
Camping & Backpackers Lodgings ideal for Hikers

The Gauteng offers camping sites in popular holiday destinations - near wildlife parks and famous landmarks - on the coast and on popular tourism routes. Cars, caravans, campers and tents can be hired in all major centres and give travellers the freedom to explore the countryside by themselves ... more information

Gauteng Backpacker hostels offer excellent value for money, hospitality and a safe and friendly, laid-back atmosphere. Deal direct and save! Your enquiry goes directly to the Gauteng Backpackers Lodge or Hostel of your choice - you pay no commissions or booking fees when making your reservations ... more information

Looking for Things to Do in the Gauteng?
Search for extreme sports (and service providers), wildlife activities, watersports, family entertainment and other activities ... See Things To Do in Gauteng.