Where? V&A Waterfront
This transmission is for adrenalin junkies and warfare warriors. Your mission is to take to the Cape skies Vietnam style. Adventure brief, extreme flying. Your troops will depart in the restored 1963 military ...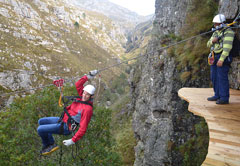 Where? Elgin
The beauty of the Cape Overberg is rivalled only by the many adventures and extreme sports on offer in this quiet, unspoilt part of the world. The Cape Canopy Tour is conducted in the Hottentots Holland Nature ...