Eating Out in Somerset West

Caffe Rossini Somerset Mall

Cafés & Eateries Cape Helderberg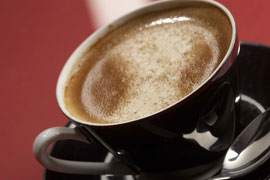 We regret, this establishment is closed.
The Caffé Rossini concept is based on the contemporary lifestyle of a 19th century Italian gentleman, Gioachino Rossini. A tenor and composer of operas, Rossini's love of music was surpassed only by his love for good coffee and good food. Quality coffee and authentic Italian goodness on the menu keep Somerset West locals and tourists flocking to the café.
Caffé Rossini has honoured the traditions of making authentic Italian style coffees and continues to make an excellent cup of coffee, no matter what your favourite. The menu caters to the local palate with delicious egg and bacon breakfasts, and light lunches, through to Italian-style sandwiches, paninis, impressive fresh salads and scrumptious pastas. Save space to enjoy a slice of cake and another perfect coffee or espresso.