Things To Do in Brummeria

The Green Market in Pretoria

Craft & Flea Markets Family Entertainment Farm Stalls & Markets Miscellaneous Pretoria

Where? Pretoria National Botanical Gardens, 2 Cussonia Avenue, Brummeria, Pretoria

When? The first Saturday of every month from 09h00 to 14h00.

How? Call +27 (0)83 562-5249

How much? Free to browse

Overnight? Stay at accommodation in Brummeria, in Gauteng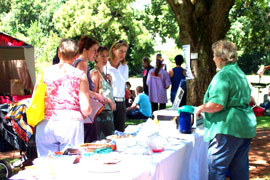 Come and enjoy the day with family and friends! With live music, lush green lawns, fun educational demos and a variety of green products this once a month event is the perfect place to expand your knowledge on green issues.
The Green Markets organizers are very passionate about educating and also raising awareness on the importance and the benefits of a greener lifestyle. Support our recycling project by bringing your Clean recyclables (plastic, glass, paper and tin) to recycle a the event. For more information on how to become a stallholder or how to support us in any way, please feel free to contact us.