Things To Do in Sandton

Sip Cocktails at Sudada

Where? No. 12 Fredman Drive, Nedbank House, Sandton, Johannesburg

When? Tuesday to Saturday from 17h00 to late.

How? Call +27 (0)11 884-1980

How much? Falls into price group R1 to R100 per person. Confirm with the provider.

Overnight? Stay at accommodation in Sandton, in Gauteng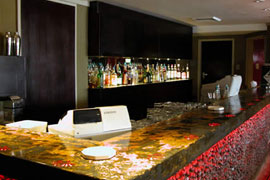 Sudada offers a wonderful relaxed atmosphere for after work cocktails, a bite to eat and partying late into the night. With some of South Africa's most revered DJ's playing laid-back sets from Friday afternoons until late into the early hours of Saturday morning.
Then the DJ's are back from Saturday night from 22:00 until late into the early hours of Sunday morning. Offering a mature and intelligent mix of contemporary house music, to satisfying any decadent party goer's needs. The door policy on weekend nights is smart-casual, strictly 18 plus.