Eating Out in Doornkloof

Nguni Bar

Cafés & Eateries Nightlife & Theatre Dinokeng Northern Gauteng

Where? Stone Cradle, Plot 72, Game Reserve Drive, Doornkloof, Northern Gauteng, Gauteng

When? Please enquire.

How? Call +27 (0)73 266-2555

Overnight? Stay at accommodation in Doornkloof, in Gauteng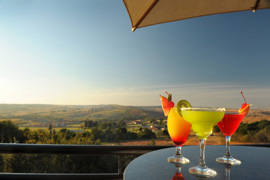 If you are looking for a great place to relax, watch the game on big screen or enjoy a good natter with your friends then stop by the Nguni Bar at Stone Cradle.
At Stone Cradle you are spoilt for choice with a large selection of cocktails and some of the best coffee you could sample. Imported cigars are available and will accompany your choice of drink. The selection of Boutique wines, cognacs, spirits and single malt whiskeys will impress and give you a wide range of beverages to choose from.
You can order snacks in the bar area from Tuesday to Saturday between 17h00 and 18h00 if you are feeling a little peckish.