Things To Do in Randpark Ridge

Make Some Macarons

Where? Lifestyle Academy, Lifestyle Garden Centre, Beyers Naude Drive, Randburg

When? Tuesdays from 18h30 to 21h30

How? Call +27 (0)11 791-1304

How much? Price on request

Overnight? Stay at accommodation in Randpark Ridge, in Gauteng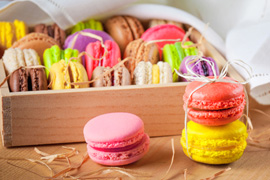 Learn how to make French Macarons at Angela's Day Kitchen at one of the 3 hour evening classes.
These tasty delights are tricky to make but you will master the art and learn some handy tips. Create a variety of flavours from salted caramel, earl grey, vanilla bean, tiramisu and red velvet.
These yummy treats are great for parties, gatherings or just for you to much on.
The class is fun and informative and is something you can do with the whole family. If you prefer savoury treats then find out about our other classes available in the week.