Things To Do in Northcliff

Learn to Scuba Dive in Jozi

Extreme Sports Family Entertainment Sports & Leisure Water Sport Johannesburg

Where? Calypso Dive and Adventure Centre, 353 Beyers Naude Drive, Northcliff, Johannesburg.

When? Courses by booking only.

How? Call +27 (0)11 476-5172

How much? Price on request

Overnight? Stay at accommodation in Northcliff, in Gauteng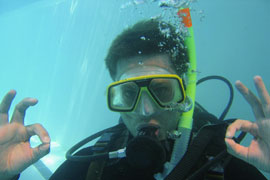 Backward roll off the landlocked Gauteng province into a sea of diving vacation opportunities. South Africa's coast is abundant with rich sea life to behold in both the Indian and Atlantic Oceans.
The jagged South African coastlines display ancient ship wrecks providing historical discoveries of rusted 'aquariums' on the ocean bed. Cape kelp forests and bright hues of sponges share the Atlantic with floods of shiny fish and dramatic white sharks. Whales float in the West coast bays during mating season while dolphins frolic on both coasts. Colourfully tinted reef fish play amongst the hard and soft coral reefs of KwaZulu Natal. Turtles dodge pelagic fish in South Africa's Indian Ocean with the presence of mantra, rays and intimidating shark varieties. Experience relaxing scenic dives as well as riveting night and cave dives.

Calypso Scuba Diving and Adventure Centre is South Africa's highest accredited diving facility. The only National Geographic and PADI 5 Star Instructor Development dive centre in South Africa. Introducing kiddies to bubbles, beginners to basics and instructors to higher qualifications and rescue training. The fully equipped venue has on-site training facilities; two classrooms with lecture and media facilities, a heated pool/aquarium, and dive retail shop, equipment maintenance services, coffee shop and parking. All equipment is available for rent or purchase. The professional dive instructors have local and international experience to get you enjoying South African dives.

* PADI - Professional Academy of Diving Instructors