Things To Do in Magaliesburg

Hekpoort Heksie

Farm Stalls & Markets Malls & Shopping Magaliesberg

Where? No 20 Rustenburg Road, Magaliesburg, Magaliesberg, Gauteng

When? Open daily from 08h00 to 18h00.

How? Call +27 (0)83 738-6282

How much? Free to browse

Overnight? Stay at accommodation in Magaliesburg, in Gauteng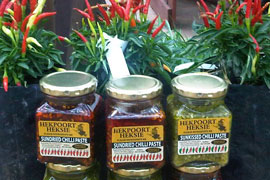 This amazing little shop on the corner provides all the country chillies, jams, pickles and so much more. The experience alone is something you would like to stay for ...
The lovely service, old fashioned music and pure style is heart-warming. Hekpoort Heksie started a few years ago with her famous chillie relish and you can find it in many restaurants and shops throughout South Africa (even at the Butcher Shoppe in Sandton Square).
This shop is an extention of her success! Hekpoort Heksie has also become famous for her chicken pies and other diverse frozen foods. This shop is a must and probably one of the most stylish and most visited shop in Magaliesburg.