Things To Do in Kempton Park

Deli and Arts & Crafts Market

Arts & Crafts Craft & Flea Markets Farm Stalls & Markets East Rand

Where? 32 Fiskaal Street, Kempton Park, Gauteng

When? The Market will run quarterly (4 x per year) from 17h00 to 21h00.
(Please enquire about dates)

How? Call +27 (0)11 391-2621

How much? Free to browse

Overnight? Stay at accommodation in Kempton Park, in Gauteng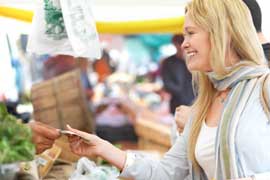 Come and visit this quarterly run market for a wide range of fabulous products.
There are a variety of vendor stalls offering fresh local produce, culinary delights and home made delicacies. Products on offer include baked goods, home made jams, curries, samoosas, breyani and much more.
Visitors to the market can enjoy a great coffee at our own Cafe Kaleideo. An exciting selection of arts and crafts are also available.
At the market you will be welcomed with friendly smiles and lively atmosphere. This is certainly a market not to be missed.