Eating Out in Soweto

Choc's Restaurant & Bar

Cafés & Eateries Nightlife & Theatre Johannesburg

Where? 3573 Zone 3 Pimville, Msilinga Street, Soweto

When? Monday to Thursday from 11h00 to 22h00.
Friday to Sunday from 11h00 to 02h00.

How? Call +27 (0)79 386-1933

Overnight? Stay at accommodation in Soweto, in Gauteng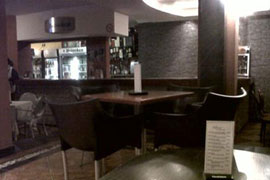 Choc's Restaurant & Bar, the trendiest restaurant in the heart of Soweto is situated close to Maponya Mall and about 5km to The Walter Sisulu Square in Kliptown.
Famous for being the vibey place that service upmarket locals of Soweto and tourists from all over the world, "Choc's" as the locals call it, prides its self with its food - we serve local food from Pap to Mogodu, Chicken Wings to Grilled Steaks with Chips, with a full bar that serves beers, ciders and cocktails.
Never a dull moment, at Choc's we host local societies, birthday parties, brand events, Sunday Jazz Sessions or just come and enjoy a drink with friends, the more the merrier!