Eating Out in Brooklyn

Aroma Gourmet Coffee Roastery

Where? Florence Heights Shopping Centre, 255 Lynnwood Road, Brooklyn, Pretoria

When? Please enquire

How? Call +27 (0)12 362-3560

Overnight? Stay at accommodation in Brooklyn, in Gauteng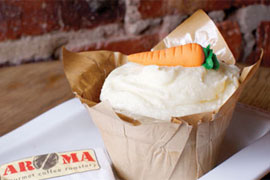 Come and visit the Aroma Gourmet Coffee Roastery for the best quality coffee in town.
You can order anything from an espresso to a cappuccino, red cappuccino, choc shot, latte, macchiato and more. Frappe, peanut butter freezo's and other cold drinks are available if you don't fancy a warm beverage.
If you feel your stomach rumbling why not climb into one of the delicious gourmet sandwiches available or perhaps a hearty salad. If you have a bit of a sweet tooth you will go nuts for the red velvet cupcakes, the brownies, blondies and the cheesecake.