Restaurants in Brooklyn
Restaurants: Fine Dining
Showing 1 of 1 restaurant in this category
Where? Brooklyn
This classy, elegantly decorated, up market restaurant oozes style. Here you can order delicious delicacies such as frog legs, scallops, venison and outstanding seafood. Whether you are coming for a bite to ...
Restaurants: Casual Dining
Showing 2 of 6 restaurants in this category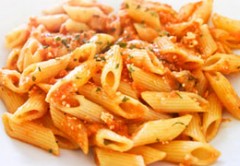 Where? Brooklyn
Ciao! Mediterranean Kitchen has all the ingredients that make up a favourite local Italian restaurant: it has been family run since 1998, is based at the heart of Pretoria's most cosmopolitan suburbs, boasts ...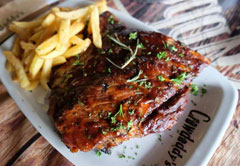 Where? Brooklyn
This busy restaurant is a popular choice, whether you are popping in for lunch, dinner or even just a quick beer. The decor is interesting and the atmosphere is electric. The menu is extensive and has so ...
Restaurants: Bistros & Pubs
Showing 1 of 1 restaurant in this category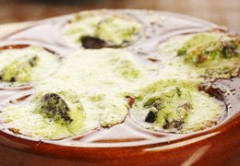 Where? Brooklyn
The elegant Pangaea Lounge in Brooklyn, Pretoria, is a trendy hub in which to entertain and socialise. The contemporary style combines with a laid-back atmosphere to create a unique vibe that reflects our ...
Restaurants: Cafés & Coffee Shops
Showing 2 of 3 restaurants in this category
Where? Brooklyn
Come and visit the Aroma Gourmet Coffee Roastery for the best quality coffee in town. You can order anything from an espresso to a cappuccino, red cappuccino, choc shot, latte, macchiato and more. Frappe, ...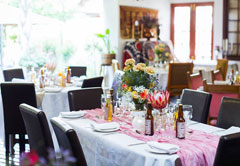 Where? Brooklyn
The lovely Tea Garden at the Brooklyn Guest House serves breakfasts, light meals and delicacies on weekdays from 8am to 4pm and on Saturdays from 8am to 3pm. On Sundays we serve a home-cooked Buffet lunch ...
Filter restaurants
in Brooklyn, Gauteng
©Unauthorised use of the
photos is strictly prohibited.