Things To Do in Mossel Bay

Tandem Jump above the Bay

Extreme Sports Sight Seeing Sports & Leisure

Where? Garden Route Adventure Centre, 1 Marsh Road, Mossel Bay

When? By arrangement, please contact us to book.

How? Call +27 (0)44 691-3182

How much? Price on request

Overnight? Stay at accommodation in Mossel Bay, in Garden Route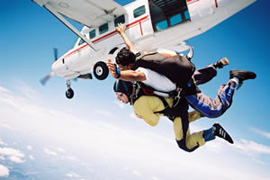 Jumping out of an airplane at 10 000 feet plunging towards the earth at 250 kilometres per hour sounds crazy right? Well, one of the ultimate experiences you will ever do is skydiving. Safe and maximum fun! Try a tandem jump above the bay with spectacular and breathtaking views. Experience the quietness in the air while gliding slowly towards the earth taking it all in ...
Courses can be done. The beginners course takes about 8 hours of training.