Eating Out in Mossel Bay

Santos Express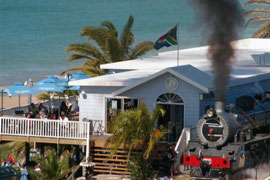 Santos Express is a quaint and unique restaurant located within an old, stationery vintage train. Only 30 metres from the sea, patrons can enjoy stunning sea views from the train carriage windows, while enjoying a decadent breakfast or lip-smacking lunch.
Breakfast is served all day - a rarity in South Africa. Bring the whole family, bring the morning newspaper and feel like you're taking a trip to a far and distant land!
The menu is perfect for the younger members of the family, with simplistic and uncomplicated favourites always on the menu, such as the fresh hake and deep fried calamari with chips; the 200 g sirloin steak and calamari combo, as well as a range of comfort food, such as their pasta and lasagne dishes. Enjoy the novelty of the train carriage or sit outside on the sundeck, with a glass of wine and the ocean waves lapping nearby.