Things To Do in Gouritsmond

Gourits Bridge Bungee Jump

Extreme Sports Sports & Leisure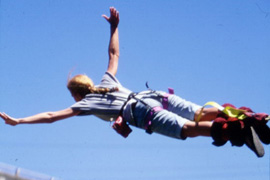 Please Note: The bridge swing and bungy have been stopped due to the unsafe bridge structure.
This was the original African Bungy jump site established in 1989. At 65m above the Gourits River, this bungy jump offered a big ground rush and plenty of adrenalin.
35 Kilometers to the west of Mossel Bay along the N2 national road is the historical Gourits River Bridge. This is where Bungy jumping began in South Africa. The Gourits River Bridge is 65m high, and was the longest running bungy site in Africa.