Eating Out in Sedgefield

Dine At Montecello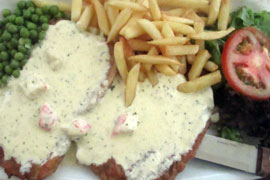 If you are looking for authentic Italian food and possible the best food you will ever have, then do pop into Montecello.
The decor may seem a bit old fashioned looking but don't be fooled, it has a lovely cosy and friendly atmosphere and the food is unbelievable. The must order dish is the espatada which comes in 3 sizes, locals and visitors rave about this dish wherever you go.
Another incredible meal is the melt in your mouth calamari steak, covered in crab sauce and served with homemade chips and fresh greens. If you fancy a chicken schnitzel, this is where you want to go as you get 3 large schnitzels, topped with fresh spinach and drenched in rich cheese sauce.
The portions are very generous, but don't worry, anything you cant manage can be taken home with you in a doggy bag.