Eating Out in Kareedouw

Dezeppi's Pizzeria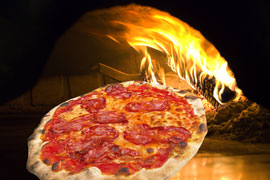 Dezeppi's Pizzeria is the informal, chilled dining spot at Assegaaibosch Country Lodge, with its sister restaurant 'The Copper Pot' catering to slightly more formal meals.
Overlooking a swimming pool, with its wooden deck setting, one is invited to relax with a chilled drink and a pizza in the warmer months, or to recline with a bottle of wine and a delicious pasta, in the colder months.
Expect all your favourites on the menu, from the simplicity of a margarita, through to gourmet toppings, seafood, meat, chicken and a variety of cheese and veggie toppings, all on a thin base, made to perfection.
Make sure to book for dinner at one of the fantastic restaurants at this venue – they are in demand!