Things To Do in Central Hill

Visit Fort Frederick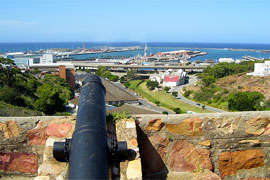 The Fort, which is located along Belmont Terrace, Central, is a stone fort built in 1799 by the British Forces to defend the mouth of the Baakens River. It was named after Frederick, Duke of York, and was built by troops sent to Algoa Bay to prevent a possible landing of French troops to assist the Graaff-Reinet rebels. Yet, ironically, no shot was ever fired in anger from the Fort.
The Fort, containing a powder magazine and a guardhouse, was originally defended by eight 12-powder guns.