Things To Do in Aliwal North

Fish Eagle Spa

Health & Beauty Northern Ukhahlamba

Where? Situated 38 km's from Aliwal North on the R58 to Lady Grey, Eastern Cape

When? Please enquire.

How? Call +27 (0)51 633-3777

How much? Price on request

Overnight? Stay at accommodation in Aliwal North, in Eastern Cape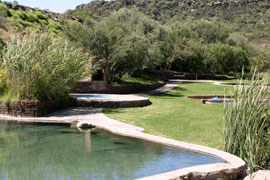 Situated about 300 metres from the mighty Orange River, the Fish Eagle Natural Sulphur Hot Spa is a welcome retreat as well as a therapeutic Mecca for those that want to feel the full benefit of Mother Nature's "pharmacy".
Less than 40 kilometres from Aliwal North and on the way to Lady Grey, the Fish Eagle Spa invites those needing rest, rejuvenation, relaxation and a touch of pampering to enjoy the 36-degree sulphurous water that bubbles up from the depths of the earth.
Sulphur in its natural form doesn't smell very good. Still, it has so many healthful properties. The warm water alone soothes and revitalises the body and mind. The sulphur is effective in treating a number of female diseases, arthritis, hay fever, interstitial cystitis, musculoskeletal illnesses, warts, eczema, psoriasis, folliculitis, asthma, neuralgia, arteriosclerosis, and more. It is also a fabulous detoxifier that helps with circulation, metabolic rate and oxygen absorption.
Guests visiting the Fish Eagle Spa will need a 4 x 4 or a bakkie when it has been raining.
Please Note
Business details can change. All information is published in good faith as supplied by the providers. Please check with the provider that the activity/business is still offered as described above, before making any travel plans.