Restaurants in Melrose
Restaurants: Casual Dining
Showing 1 of 1 restaurant in this category
Where? Sandton
Piza e Vino has proven itself to be a 'keeper' in the hearts of local residents, thanks to a bustling atmosphere, an Italian menu and some of the most creative pizzas we've ever seen! The outdoor deck includes ...
Restaurants: Bistros & Pubs
Showing 1 of 1 restaurant in this category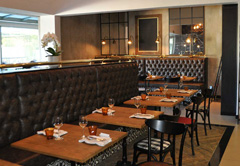 Where? Melrose
Bistro Michel is the passion and brainchild of Michel Morand, who is acclaimed for having hosted the likes of late president, Nelson Mandela, Mrs Mbeki, Bill Clinton, John Legend and Lionel Richie during his ...
Filter restaurants
in Melrose, Johannesburg
©Unauthorised use of the
photos is strictly prohibited.