Eating Out in Dunkeld West

Fournos Bakery

Where? Dunkeld West Shopping Centre, Corner of Jan Smuts Ave and Bompas Road, Dunkeld West, Johannesburg

When? Open daily for breakfast, tea and lunch from 07h00.

How? Call +27 (0)11 325-2110

Overnight? Stay at accommodation in Dunkeld West, in Gauteng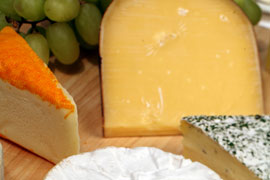 The great things about Fournos include being able to order your dinner and collect it on the way home - this is often a great way to feed the friends you invited for supper last minute; that it opens at 7am, which makes it perfect for breakfast meetings, and that their pastries are the best.
Their deli is where it's really at, with an incredible selection of cheeses, meats, olives, pickles etc. just waiting to be piled on to your choice of roll, bread or croissant. They also do a selection of salads and meze. Can't go wrong with this venue, breakfast, tea or lunch.
Additional Reading
For a review of some of the best delis and places to eat in Jozi, see our article at "When in Johannesburg: great spots at which to eat".