South African Languages
Zulu (IsiZulu) Language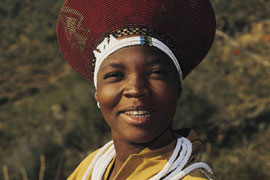 IsiZulu, more commonly shorted to Zulu, is one of the 11 official languages of this country. 10 million people speak the language and most of them live in South Africa.

Zulu is the home language of about 22.7% of South Africans; while as many as half of the local population understands it. It falls under the Nguni group and is one of the Bantu languages. Xhosa and Zulu are the only two languages that are considered to be mutually understandable.

The Zulu nation came into existence around the 14th century. Although there are many Bantu migrants, the Zulu language adopted many of the sounds that make up the modern language from the San and the Khoi. The San and the Khoi were the indigenous folk of South Africa, living off the abundance of the land and forming a crucial part of its history and heritage.

The evidence of their influence remains the clicking consonants in the modern Zulu language. Other early indigenous tongues were all oral languages until the missionaries from Europe arrived. These ones taught the local inhabitants to read and write, creating a written version of their tongue. Missionaries also began to jot down interesting facts about this language using a Latin alphabet. The year was 1883, and this was the year in which the first book containing the Zulu language was produced – the Bible.


John Dube, who resided in Natal at the time, established what was called the Ohlange Institute in 1901. The Ohlange Institute was South Africa's very first educational foundation. John Dube was considered a great pioneer in the Zulu language and wrote the first Zulu paperback entitled "Insila Kashaka".
Other names in original Zulu literature include Oswald-Mbuyiseni Mtshali, Reginald Dhlomo and Benedict-Wallet Vilakazi. These novelists specialised in creating historically-based novels that told the life stories of known Zulu leaders like Dingane and Shaka (also known as Shaka Zulu). Zulu anthologies came into production in the year 1935 and later with writers such as JC Dlamini, BWV Vilkazi and OEH Nxumalo. Today, written Zulu is under the
Kwazulu Natal
Zulu-Language Jurisdiction Board.
Zulu is now a widespread language that can be found throughout Africa. It is especially widely spoken in KwaZulu-Natal, which is also known as "Land of the Zulu". The language can be heard in
Mpumalanga
and
Gauteng
provinces as well. Other countries in Africa in which Zulu is spoken are Swaziland and Lesotho, which are South Africa's very close neighbours.
South African English has adopted many Zulu words into its vocabulary. Some of these words include ubuntu (humanity), donga (ditch), indaba (conference) and muti (medicine). Two Zulu animal names are used in Standard English; impala (proper name) and mamba (a poisonous snake).
If you are considering learning a
South African language
, Zulu is an easily understood and wide-spread tongue.

Did You Know?
There are 11 officially recognised languages, most of which are indigenous to South Africa. English is spoken everywhere you go. English is the language of the cities, of commerce and banking, of government and official documents. All our road signs and official forms are in English and at any South African Hotel, Bed and Breakfast or Guest House the service staff will speak to you in English.
Do you like room service,
24 hour reception and other
facilities only available at hotels?