South African Languages
Setswana (Tswana) Language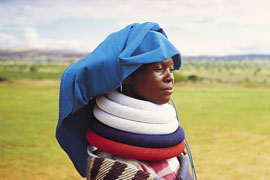 The Setswana language is one of 11 official languages spoken in South Africa, and one of nine indigenous languages chosen for this title in the post-apartheid constitution.

Setswana speakers form the fifth-largest language group in South Africa. It is spoken by about 8% of the total population, which is more than 4 million folk. It is more commonly spoken in the north-western parts of South Africa, where the country borders with Botswana. Setswana is also Botswana's national language and as much as 70% of Botswana's population speak it. In addition, there are small groups speaking Tswana in Namibia and Zimbabwe.

Said to be closely related to two other languages in the Sotho language group – Sesotho (southern Sotho), and Sesotho sa Leboa (or northern Sotho) – Tswana is believed to be the first Sotho language to have acquired written form when Heinrich Lictenstein produced a book known as Upon the Language of the Beetjuana (Botswana was then known as Bechuanaland) in 1806. It is also closely related to the Kgalagadi and Lozi languages.

In similar fashion to other official African languages, the written form was developed by early European missionaries. Lictenstein's book was followed with Dr Robert Moffat's translation of the Bible into Setswana, which was completed in 1857. Later, in 1929, Sol Plaatje, a native Setswana speaker, produced a book with Professor Daniel Jones called Tones of Secwana Nouns.

Sol Plaatje is considered to be one of the most famous Tswana speakers, having played an integral role in the history of our country. He was a journalist, writer and intellectual. He was also a founding member of the South African Native National Congress, a forerunner of the ANC. In addition, he translated some of Shakespeare's works into Setswana.

Purists are disappointed when Setswana is equated with Tswana. They consider the two to be totally separate languages.

Setswana speakers are often referred to as Tswanas – a term regarded as erroneous by those who prefer the term Batswana people, even though some linguists argue that it is common practice to drop the language prefix when referring to African languages, hence Tswana.

Examples of Setswana include: dumela (hello); O kae? (how are you?); and Ke teng (I am fine).

Did You Know?
There are 11 officially recognised languages, most of which are indigenous to South Africa. English is spoken everywhere you go. English is the language of the cities, of commerce and banking, of government and official documents. All our road signs and official forms are in English and at any South African Hotel, Bed and Breakfast or Guest House the service staff will speak to you in English.