The Tyger Valley Arena incorporates an entertainment arena with food, leisure, banking and exciting retail stores. The Tyger Valley Arena is contained in a three-level setting using the very latest designs and ...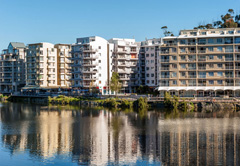 Situated on the water, right in the heart of a bustling town, the whole of Tyger Waterfront really lends itself to a fun, relaxed vibe. In addition, it is close to a range of restaurants, as well as to the ...
The 309 hectare reserve stands on a series of hills with incredible 360 degree views over Cape Town. Sit awhile on the west side, once you've climbed the highest point of the reserve (not a difficult task as ...