Restaurants in Tygervalley
Restaurants: Casual Dining
Showing 1 of 1 restaurant in this category
Where? Tygervalley
You are in for a treat when dining at the very cool, contemporary, Lemon Butta Restaurant. The seafood is to die for with some of the popular favourites being the Portuguese sardines, tekka maki, Mozambique ...
Restaurants: Cafés & Coffee Shops
Showing 1 of 1 restaurant in this category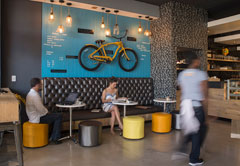 Where? Tygervalley
Pulp Kitchen and Deli is a unique and trendy spot at Willowbridge Shopping Centre where you can shop for healthy and incredibly yummy food and treats or sit in and enjoy a tasty meal. Everything is locally ...
Filter restaurants
in Tygervalley, Cape Town
©Unauthorised use of the
photos is strictly prohibited.