Thanks to its being a short course, Hunters Rest is great for golfers on a time budget, or for those that enjoy a faster pace. No matter what kind of game you prefer, the views are always sure to impress. In ...
Perfect for weekend hiking because of the easy access from both Johannesburg and Pretoria, Kgaswane Mountain Reserve is littered with beautiful rock formations, streams that wend their way through valleys that ...
Formally known as the Royal Bafokeng Sports Palace, this stadium is situated in Rustenburg, which is a charming town at the foot of the Magaliesberg Mountain Range in the North West Province. This stadium was ...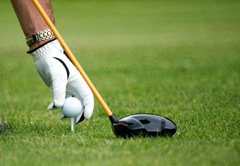 The Rustenburg Golf Course takes full advantage of its prime position in the foothills of the spectacular Magaliesberg Mountain Range. However, it is also placed within the town of Rustenburg, which is ...
Vaalkop Dam Nature Reserve, just 90 minutes from Johannesburg and 30 minutes from Sun City, is dominated by broken bushveld and is a renowned area for both lovers of fishing and birds, and a lovely space in ...