The Barberton Makhonjwa Mountain Land is the first UNESCO World Heritage Site in the province. Mpumalanga, which shares borders with Gauteng and Limpopo, has always been one of South Africa's most attractive ...
The Mountainlands Nature Reserve is in the Makhonjwa Mountains above Barberton. The term 'mountainland' was coined by geologists to refer to what is also known as the Barberton Greenstone Belt, or ...
Set in the incredibly picturesque scenery of the Barberton Mountainland, Nkomazi Game Reserve lies in the malaria-free parts of Mpumalanga closest to Barberton, the Kruger National Park, Pilgrims Rest and such ...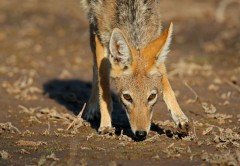 Songimvelo Game Reserve lies deep in the Barberton Mountainlands and is one of the largest reserves of the Mpumalanga Parks Board that extends over 50 000 hectares. Songimvelo lies in a corner of the province ...