The Umhlanga Lagoon Nature Reserve is small at only 26 hectares, but the trails are stunning and lead through dune forest, across the lagoon and onto the beach. At the lagoon mouth are the remains of a Stone ...
The Umlanga 'ponds' themselves are referred to in inverted commas because they're actually a wastewater treatment works, but don't let this knowledge deter you from a visit as, despite this, the area is quite ...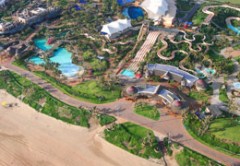 uShaka Marine World in Durban is a world-class entertainment and tourism destination. At the end of Durban's Golden Mile is the beginning of uShaka Marine World - spanning over 15 hectares of prime beach ...