Found just outside the little town of Eshowe, the Dlinza Forest is one of two indigenous forests that lie close to one another in this southern part of Zululand; the other is Entumeni. Dlinza, 250-hectares of ...
Just outside the historical Zululand town of Eshowe, in the heart of the balmy KwaZulu-Natal Province, lies the beautiful forest reserve of Entumeni. This is a small nature reserve, occupying only about 750 ...
The Eshowe Country Club is situated on the Eshowe Hills Eco Estate in Eshowe and as such meanders through the famous Dhlinza Forest and grasslands which are rich in indigenous fauna and flora. Strict ...
This beautiful old fort was originally created in the middle of the Dlinza Forest in eShowe in 1883. Around 90 barefoot Zulu police (known as the Nongqayi or 'restrainers') moved into the building to maintain ...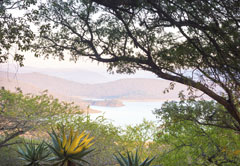 Having been constructed almost 30 years ago, Lake Phobane is 14 kilometres long and accommodates about 300 million cubic metres of water. It is idyllically situated in the Umhlatuze Valley, surrounded by the ...
Martyrís Cross is a monument that was erected in memory of the first Christian martyr in Zululand, Maqhamusela Khanyile. In the latter half of the 1800ís, soldiers were not permitted to become baptised ...
56 kilometres north-west of the town of Eshowe, once the capital of Zululand, is a beautiful forest; one of the most magnificently beautiful in the province. Nkandla Forest is a rare type of high wet rain ...
Ngoye Forest Reserve, better known as the Ongoye Forest Reserve, lies in the north of KwaZulu-Natal between Mtunzini, Eshowe and Emangeni, some 150 kilometres north of Durban. Ongoye is regarded as one of the ...
Shakaland has been hailed as one of the best Zulu experiences on the continent, thanks to its authenticity and the sheer element of fun that infuses every part of it. This is, technically, a replica of a ...