Restaurants in Eshowe
Restaurants: Cafés & Coffee Shops
Showing 1 of 1 restaurant in this category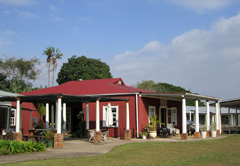 Where? Eshowe
Adams Outpost Restaurant and Tea Garden is a traveller's answer to his pangs of hunger combined with an earnest desire to enjoy the surrounding scenery. Situated in Eshowe, the oldest European settlement in ...
Filter restaurants
in Eshowe, KwaZulu Natal
©Unauthorised use of the
photos is strictly prohibited.