Kanoneiland, Green Kalahari
Kanoneiland is a beautiful settlement situated in the Northern Cape. What makes this settlement stand out from the rest is that it is situated on the largest inland island in the gorgeous Orange River Valley. It is, in fact, the biggest river settlement in the country.
Kanoneiland gets its name from the days when Koranna river pirates under the leadership of Klaas Pofadder lived on the island and hid in the dense foliage. In 1879 the island was attacked by a small cannon for a number of days by a force of 80 policemen under Captain Dyason. In response, the Korannas built their own cannon from a hollow aloe stem. They loaded this with gunpowder and when they fired, it exploded and killed 6 Koranna. The cannon used by the Cape Field Artillery can still be seen today in front of the old school building.
In 1928, a group of 52 private settlers began to clear this beautiful island for cultivation. The irrigation scheme in the area supports the lush vineyards that are truly glorious to look at. In winter, the island can hardly be seen and looks like a series of vineyards on dry land. However, when it is rainy season, the water levels rise quite considerably and the islanders often have to put up barrages to prevent the water from flooding the island. Fortunately the residential parts have been built on the highest parts of the island and the islanders' homes are generally safe.
Guided tours of the island are an experience not to be missed! It is a truly beautiful island boasting an abundance of lush foliage and fields. Groups of up to 20 people at a time can be catered for. One can enjoy the traditional meals of the islanders as well as the delicious locally produced wines. The people here are friendly and hospitable and the accommodation is superb! The tranquillity and beauty of this area attracts many people here yearly. Kanoneiland is one not to be missed!
In the vicinity
Hotels & other accommodation options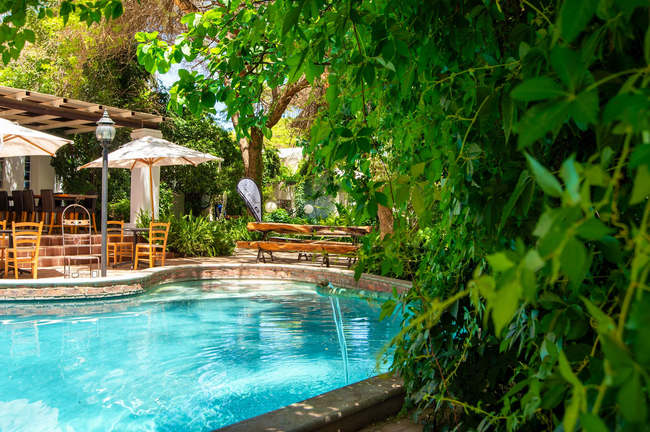 Guest House
African Vineyard Guesthouse is nestled in a lush landscape of vineyards at Kanoneiland. African Vineyard Guesthouse mixes its magical ingredients...
Noteworthy attractions
Find accommodation in Kanoneiland
FIND / South Africa Accommodation / Northern Cape Accommodation / Green Kalahari Accommodation / Kanoneiland Accommodation
Kanoneiland as a destination