About Satyagraha House
Mohandas Gandhi, who is perhaps better known as Mahatma Gandhi, is a famed politician, lawyer, activist and author that has inspired so many to a more peaceful, fair way of treating others, even in their personal capacities.
Satyagraha House was this icon's place of residence more than 100 years ago, when he lived in Johannesburg, the City of Gold. Today, this is a bustling metropolis that exudes a non-stop buzz for locals and millions of international tourists alike. In the heart of the Orchards suburb, the Satyagraha House is a museum dedicated to the history and culture of yesteryear, as well as to the accomplishments and dedicated efforts of this fine man.
Did you know?

The Satyagraha Museum walks in the footsteps of Gandhi during his time in South Africa, and follows him to other parts of the world to see his transformation from a meek and mild youth to an influential leader.
Satyagraha is a philosophy that is based on adhering to the truth in a non-violent, passive way. It was during his time in this house (1908 to 1909) that Gandhi developed this philosophy in Sanskrit. He used this method and way of thinking in India, when he led the country to independence from British rule. This philosophy also influenced other political leaders; such as Nelson Mandela, Martin Luther King and James Bevel.
Having been built by Hermann Kallenbach in 1907, the house needed to undergo some major renovations in more recent years. Today, it has been given a new lease on life, while not compromising on the charm and integrity of it in its original form. The style of the house is distinctive and resembles a traditional African farmhouse in its shape and its finishes. A new wing was added in 2010.
The Satyagraha Museum walks in the footsteps of Gandhi during his time in South Africa, and follows him to other parts of the world to see his transformation from a meek and mild youth to an influential leader. Even from his early days, Gandhi was unable to fathom the divisive laws that separated people according to their race. It went against everything he held to be true, and he played a major role in overturning strongly entrenched prejudices. Today, he is still respected for the role in played, even unknowingly, in the move away from apartheid and discrimination.
Thanks to its convenient location, the Satyagraha House is easily accessible and close to a number of well-established residential suburbs, malls, historical attractions, entertainment providers and transport routes. Some of these attractions have a direct link to Mahatma Gandhi too, such as Constitution Hill, which was once the address for the prison to which both Gandhi and Mandela were sent for their political involvement.
Visitors wanting to indulge in fine dining, shopaholics looking to get their fix, or adrenalin junkies looking for an adventure can all rest assured that there is an abundance of things to see and do in the immediate vicinity of the museum, as well as a little further afield.
Johannesburg is the capital city of Gauteng and is the commercial and economic hub of South Africa. In addition, it is home to the OR Tambo International Airport. This means that it is a springboard for the millions of tourists that come to South Africa every year to be a part of the history, culture and excitement of this world-class destination.
Need to Know
WhereSatyagraha House, 15 Pine Road, Orchards, Johannesburg, Gauteng, South Africa
Telephone+27 (0)11 485-5928
OvernightStay in Orchards Accommodation, Gauteng
Disclaimer
Please note, business details can change. While we endeavour to ensure all information provided by the service provider is correct at the time of publication, we do not assume any liability caused by errors or changes, such as price, cost, time, and location. Please check with the provider that the activity/business is still offered as described, before making any travel plans.
Feedback?
If this is your attraction, you can let us know if anything on this page is outdated or contains inaccuracies, by email. We regret, we do not have any other information, please contact the provider if you have questions.
Additional Reading
You might also be interested in
Also See These Attractions
Attractions near
Orchards
In the vicinity
Hotels & other accommodation options in Orchards
Things to do in the area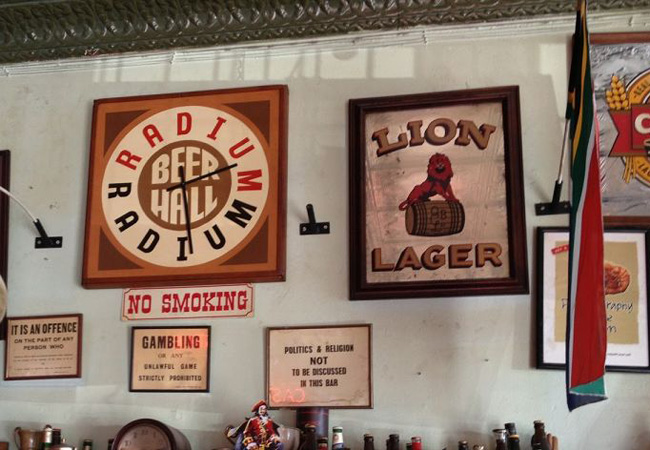 Cafés & Eateries
The Radium Beerhall is the oldest bar and grill in Johannesburg, steeped in history, tumult and legend. The Radium's history reaches as far back ...
Accommodation convenient to Satyagraha House
FIND / South Africa Accommodation / Gauteng Accommodation / Johannesburg Accommodation / Orchards Accommodation
Orchards as a destination