KwaZulu Natal Things To Do
Witness the Mount Moreland Swallows (Umdloti)
Categories: Birding / Miscellaneous
Price group: Donations appreciated (see other things to do in this price group)
Available in the following region(s): Dolphin Coast
Stay Overnight: See Umdloti accommodation, in KwaZulu Natal
Address: Lake Victoria Conservancy, Charles Street, Mount Moreland, just inland from Umdloti, Dolphin Coast, KwaZulu Natal.
Telephone: +27 (0)31 568-1671
Opening hours: Best from early November until mid-April.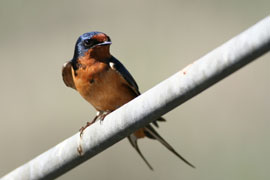 Witness the spectacle of the Mount Moreland Swallows: Enjoy an evening picnic or a few sundowners at the Lake Victoria Conservancy in Mount Moreland and witness the spectacle of the Mount Moreland Swallows. (Barn Swallow - Hirundo Rustica). Every evening from mid October to mid April, millions of these tiny birds gather for about half an hour before sunset and fly in vast numbers over the Lake Victoria Wetlands. As dusk falls, the swallows drop down in the reeds and are gone … until dusk the next day!

The Wetland is the largest roost site for the Barn (European) Swallows during their summer migration to South Africa. The round trip from Europe can be over 12,000 kilometres which is no mean feat for a bird weighing an average of 18 grams.

The viewing site is open to visitors every day at sunset. Please bring your own chairs, drinks and snacks and it is advised that you bring mosquito repellent. There is no charge for viewing the swallows, but a donation box is on site for those who wish to donate to maintaining the area.

For a first hand account about the Mount Moreland Swallows see The Mount Moreland Swallows
Why Not Overnight?
Find Accommodation in Umdloti
This tastefully furnished ground floor apartment, sleeping maximum 6 people, enjoys a 150° sea view from your own private garden and patio with the constant sound of the ocean. The apartment is in the sought after resort-like complex of Surfside, situated on the hill above the main beach, a welcome ...
Situated in the idyllic Indian Ocean village of Umdloti, on the North Coast of KwaZulu Natal, South Africa, Rising Moon is a luxurious, spacious, three double bedroom safe and secure self-catering beachfront apartment. Watch the moon rise and flood the apartment with moonlight. Fall ...
Related Pages
Travelling to Umdloti
• Umdloti Attractions
• Umdloti Accommodation
• Dolphin Coast Attractions
• Dolphin Coast Accommodation