KwaZulu Natal Things To Do
Nutmeg Bistro (Howick)
Categories: Cafés & Eateries
Price group: On Request (see other things to do in this price group)
Available in the following region(s): Natal Midlands
Stay Overnight: See accommodation in Howick, in KwaZulu Natal
Address: Nutmeg Bistro, Agricultural Hall, Falls View Drive, Howick, Natal Midlands.
Telephone: +27 (0)33 330-8373
Opening hours: Monday to Saturday from 08h00 to 17h00.
Sunday and public holidays from 08h30 to 17h00.
To see more restaurants:
South Africa Restaurants / KwaZulu Natal Restaurants / Howick Restaurants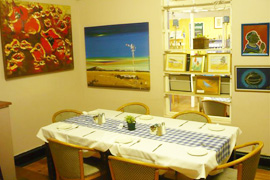 Nutmeg Bistro is situated in Howick's beautifully restored old original Agricultural Hall. This is above the Howick Falls and opposite the historic Falls Hotel, in the heart of town's prime tourist area. The bistro has an attractive indoor restaurant and a delightful outdoor seating area shaded by a beautiful old tree.

There is a ramp for wheel chair access and for your convenience, the Nutmeg Bistro is pet-friendly and there is ample parking for buses and cars.

Additional Reading
For a first hand review see our article "Nutmeg Bistro - A little bit of heaven at the Howick Falls".
Why Not Overnight?
Find Accommodation in Howick
The Howick Falls Hotel offers the most modern accommodation available in the Midlands, ideally suited to business travelers as well as tour groups ...
Set in 10 acres of garden and pastures, this 150 year-old stone house with original yellowwood ceilings and doors offers luxurious accommodation in ...
Related Pages
Travelling to Howick
• Things to Do in Howick
• Howick Attractions
• Howick Hotels
• Howick Bed and Breakfast
• KwaZulu Natal Accommodation