Things To Do in Sodwana Bay

Casual Diving with Occi Scuba

Sports & Leisure Water Sport Elephant Coast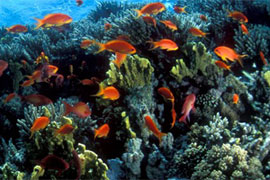 If you are an experienced open water or equivalent diver, join Occi Scuba for some casual diving and we will gladly provide you with all you need to expereince Sodwana diving at its very best! Let Occi Scuba show you all the wonders of the reefs.
Casual Dive on Two Mile Reef:
Two Mile Reef is situated 1.3km north of Jesser Point and takes approximately 3-5 minutes to get to by rubber duck. Two Mile Reef is one of Sodwana's largest coral reefs at 1.7km long and 900m wide at its widest point. Depending on prevailing conditions you can choose to dive on at least 10 fantastic dive sites, each with its own unique tapography and marine life.
Casual Dives on 5 mile, 7 mile and 9 mile:
The further reef systems of Sodwana Bay are well worth visiting, each system varies vastly in topography and wildlife. Weather permitting you can choose to dive at any of the further reefs that interest you.
Included in the dive package is a Dedicated Dive Master, Cylinder and Airfill and Weightbelt.
Excluded are entry into the park, MPA Dive permit and Nitrox.