Gauteng Things To Do
South African Lipizzaners (Kyalami)
Categories: Family Entertainment / Wheelchair Friendly
Price group: R1 to R100 per person (see other things to do in this price group)
Available in the following region(s): Midrand
Stay Overnight: See Kyalami accommodation, in Gauteng
Address: 1 Dahlia Road, Kyalami, Midrand, Gauteng
Telephone: +27 (0)11 702-2103
Opening hours: Show Time: Sunday mornings at 10h30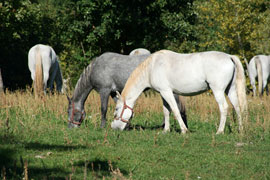 The South African Lipizzaners perform every Sunday morning at 10h30 in their majestic indoor hall in Kyalami. The performance lasts about 60 minutes (without an interval).

Refreshments and memorabilia are available before and after the performance. Tickets can be booked through Computicket or bought at the door. After each Performance the stables are open to the public - Everyone is invited to feed the Lipizzaners carrots and enjoy a snack at Café Capriole.

The South African Lipizzaners have earned the honour of being the only performing Lipizzaners outside Vienna recognised by and affiliated to the Spanish Riding School and a close association is maintained between the two establishments. Over the years, the South African Lipizzaners have become an integral part of South Africa's cultural heritage. Today, the South African Lipizzaners appear on film and television and at various public performances as well as their regular Sunday morning shows.
Why Not Overnight?
Find Accommodation in Kyalami
Heron Chase is situated in the secure equestrian estate of Beaulieu, in Midrand, Johannesburg. Set in a tranquil one hectare indigenous garden with stables and horses. Heron Chase offers family suites, a two bedroom cottage and more formal suites that are all beautifully ...
Our family home is a warm friendly environment with a countryside atmosphere. One hectare of tranquility and peace right in the heart of Midrand. We focus on hosting corporate and business people although suite two can work for families. Our Bag End accommodation ...
Related Pages
Travelling to Kyalami
• Midrand Attractions
• Midrand Guest Houses
• Midrand Accommodation