Gauteng Things To Do
Skydive Johannesburg with Skyhigh Tandems (Carletonville)
Categories: Extreme Sports
Price group: Price on request (see other things to do in this price group)
Available in the following region(s): West Rand
Address: Johannesburg Skydiving Club, Carletonville Airport, Gauteng.
Telephone: +27 (0)82 440-7717
Opening hours: On the weekend when the suns up!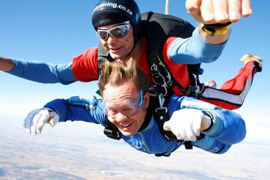 A Tandem skydive is a one on one skydive where you are attached, with a special harness to an instructor, and therefore is the quickest way to experience freefall. No training necessary, you are simply attached by a special harness to a qualified tandem master (TM).

You enjoy the ride the TM does all the work. Tandem skydiving is the easiest way to enjoy this experience of a lifetime. You will both exit the aircraft and freefall for about 40 seconds at a speed of 120 mph at which time the instructor will pull the ripcord to deploy a parachute that is specifically designed for two people. You will then assist the instructor in guiding the parachute to an on-target landing at the drop zone.

The training for a tandem jump takes approximately 5 minutes and is taught at the drop zone.