Gauteng Things To Do
Shop at Hatfield Market (Hatfield)
Categories: Arts & Crafts / Craft & Flea Markets / Farm Stalls & Markets / Wheelchair Friendly
Price group: Free to Browse (see other things to do in this price group)
Available in the following region(s): Pretoria
Address: Hatfield Plaza, Burnett Street, Pretoria, Gauteng.
Telephone: +27 (0)11 442-4488
Opening hours: Every Sunday from 09h00 to 17h00.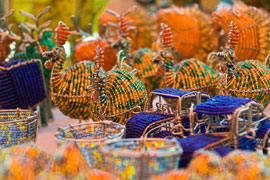 An energetic and entertaining market experience, the Hatfield Market is one of Pretoria's trendiest shopping and entertainment venues. Over 200 undercover stalls offer incredible bargains on a wide variety of merchandise - from trendy clothing and edgy décor to authentic handcrafted African wares.

Browse and shop for the latest in accessories, art, crafts, jewellery and furniture, an indulge in an excellent array of treats in the Food Court. Relax and enjoy the dynamic line-up of top local entertainers that make the Harfield a place to "see and be seen".
Why Not Overnight?
Find Accommodation in Hatfield
A unique retreat, providing business people and tourists with accommodation of distinction. 8 functionally designed self-contained living units, ...
Pippin Lofts @ South Street offers very private and luxurious spacious, tastefully decorated fully furnished luxury 1 bedroom apartments in the heart ...
Related Pages
Travelling to Hatfield