Things To Do in North Riding

SAINTs Animal Welfare Book Sale

Malls & Shopping Miscellaneous Randburg

Where? Outside Checkers on upper level, Northriding Square (Checkers and Dros), Bellairs Drive, Randburg. (Please note it is NOT the Bellairs Mall on the corner of Malibongwe, but 3 robots down in Bellairs Drive).

When? First and last Saturday of every month from 09h00 to 14h00.

How? Call Amy or Viv on +27 (0)82 259-0905

How much? Free to browse

Overnight? Stay at accommodation in North Riding, in Gauteng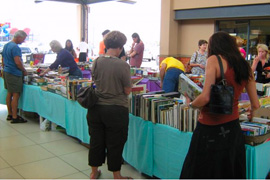 Not your average charity book sale! In aid of 4paws who are building their new shelter in Fourways. SAINTs is a Non Profit Group of Volunteers, assisting Animal Welfare Groups (focusing on dogs and cats) in Gauteng to raise funds that enable them to carry on. We help organizations that don't have their own team of fundraisers. We don't ever ask for cash donations, we hold book sales and FUN events to raise the funds.
Our book sales are not your average charity sale, we receive donations of new and once-read recent books from our supporters. Our prices are 1/3 of what you pay in a secondhand book store.
When & Where:
These sales are held every last and first Saturday of every month throughout the year at Northriding Square, (outside Checkers), Bellairs Drive, Northriding.